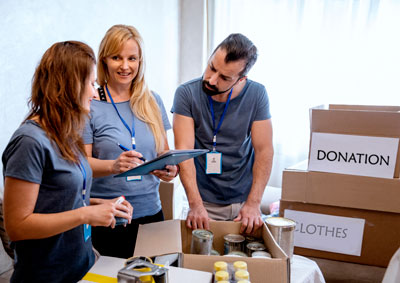 We have various opportunities for which you can volunteer. Each different outreach that we do here has room for you. We are always looking for qualified people who can assist us in the ongoing fundraising task.
During the holidays, we always need help in organizing and managing our outreaches whether you are a coordinator between us and your church, or helping to recruite churches to join us, or literally building baskets.
Each outreach we do is in need of volunteers. To volunteer for this or any outreach with The Father's Heart you may call us at (904) 716-0304 or complete the form below. You may also make a donation to the outreach through PayPal by using the donation button.
We are currently looking for volunteers for the following positions:
1. Route drivers for basket deliveries (delivering already packed food baskets to families in need.)
2. Basket packers (packing and stuffing baskets for drivers to pick up and deliver.)
3. Distribution pick up person (Pick up the food to be packed in the baskets)
4. Engagement Coordinator (raising awareness of The Father's Heart with various organizations)
5. Marketing and social media presence (increasing awareness, admin to social media sites.)
Volunteer Sign Up Form