The Father's Heart was established in Orange Park, Florida in 2009. We were birthed out of the pure desire to simply help people in need.
The Story begins at our home one November day in 2008 when my wife and I decided that Thanksgiving, for us, should be more about helping the less fortunate around us also have more reasons to be thankful. We also wanted our kids to learn the value of helping others.
So we decided to approach our pastor and ask if the church wanted to join us in this endeavor. Well the first year we were able to give away 27 baskets (135 meals) to families in need. Since that day, and with the help of several community agencies, it has grown to well over 250(1250 meals) baskets each year. As a result of seeing the need on The First Coast after that first year we decided to start a program.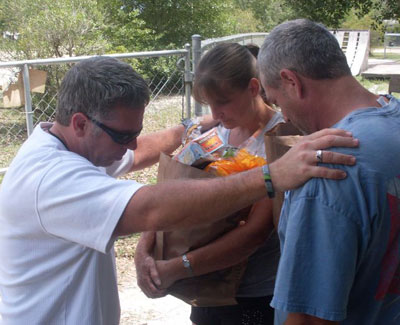 In 2009 we were awarded a non-profit status from Uncle Sam. We proceeded to find families in need in Clay County. As a school teacher in Clay County and having worked with the school system to identify families for our Thanksgiving give-aways we continued to use the same process.
So we identified about 5-6 families to help every month. My wife and I were solely supporting this program financially. We were able to get some support from a few friends and family.
This went on until 2015 which was doable because I was still in the classroom fulltime and really did not have the time or manpower for it to grow. However, in March of 2015 I really had the desire to turn this into something much more. We had grown to helping on average about 20 families. So I, with a friend, began doing BBQ fundraisers in order to raise money to increase our ability to help.
That has turned into many opportunities!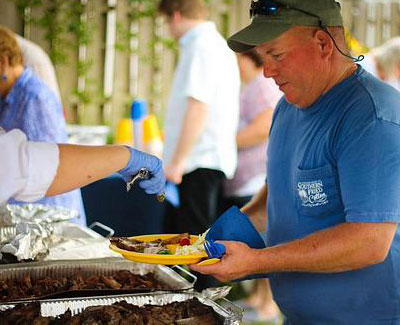 As a result of these opportunities we have been able to increase to helping 69 families each month and, I have left my classroom to pursue this vision fulltime. Each family receives on average from us approximately 50 meals each month. Our immediate goal is to increase to 100 families a month. We are trying to reach this goal by the end of 2020. There are many needs to do this, mainly financial, in order to acquire the food needed on a regular basis and a larger storage facility, or to upgrade and maintain the equipment we use for our fundraisers.
Food is just one need that these families have. Being in the classroom for 19 yrs another huge need that I have noticed is that of students having good shoes. Many students only have one pair of flip flops or open toed shoes. Often times their shoes are just worn out. We are looking to help with new shoes that protect their feet and keep them warm in the winter!
Our main source of funding continues to be BBQ fundraisers. Today would you consider helping us with those in Clay County and on The First Coast of all ages, who are food insecure, or those desperately in need of shoes? You can help by making a donation, every dollar you can help us with will provide a meal for a hungry child on The First Coast!!